In joining the Basset Hound Club of Greater Detroit, members can gain friendships and a wealth of knowledge from those who have experience breeding, showing and sharing their lives with basset hounds.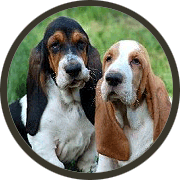 Bassets make fun companions and are a great breed to show. They present unique challenges in the show ring, and having the camaraderie of a group of friends who have "been there before" is extremely helpful to those just starting out in the sport of conformation. Teens and pre-teens interested in junior handling can also join the club as junior associates. Basset owners who aren't intending to show their dogs also enjoy the friendships found through the club, and they get to learn invaluable information about improving and maintaining their dogs' health, fitness and vitality. Dues are $10 a year for members. Junior associates can join for free. Those interested in joining the club should notify the club secretary (
secretary@detroitbassets.org
). You'll need recommendations from two individuals who are either current club members, breeders who are members of
BHCA
, or veterinarians in current practice.
Click here to download a membership application in PDF format. (Download will open in a new window.) Fill out the form and mail it with a check for $10 to the club secretary at the following address:
Basset Hound Club of Greater Detroit
P.O. Box 9512
Columbus OH 43209-0512
Click
here
for more information about club meetings.