The Basset Hound Club of Greater Detroit is a group of basset hound owners and breeders who share a concern for the improvement, preservation and welfare of this wonderful breed. We are a regional club of the
Basset Hound Club of America
(BHCA), and we strongly encourage all our members to join BHCA.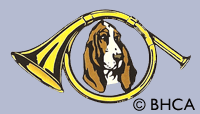 Our club is the only regional basset hound club between Pittsburgh and Chicago whose members have a primary interest in showing our dogs in the sport of conformation. Our home territory comprises the nine counties of metropolitan Detroit, but we sponsor events at American Kennel Club dog shows within a
200-mile radius of Detroit
. We draw our members from not only metro Detroit, but also throughout Michigan's lower peninsula, northwestern Ohio and northeastern Indiana. Our club shares much of its early history with BHCA, which was established in Detroit in 1933 while breeders were in town for the Detroit Kennel Club show. The early leaders of the national breed club all came from Michigan: William Fritz (BHCA's first president), Emil Seitz (BHCA's second president) and his wife, Effie Seitz (BHCA's first treasurer), and Carl Nottke (BHCA's first secretary). These Michigan breeders also worked together to form what became the Basset Hound Club of Greater Detroit in order to promote activities in this region. The club was incorporated in 1955 under our current name at the time when the BHCA regional structure was being established. Other members from our club who became prominent leaders in BHCA include Chris Teeter and Finn Bergishagen. Click
here
for a list of the club's current officers. Interested in joining us? Click
here
for more information.