The sport of conformation and dog shows are a primary interest of the members of the Basset Hound Club of Greater Detroit. On any given weekend from the spring through the fall, club members may be found showing their dogs at events throughout the Midwest — and sometimes beyond.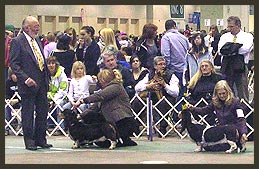 The club encourages and helps organize the basset entries at dog shows either by hosting a specialty show or sponsoring the entry at a show. The club has also hosted the annual national specialty show of the Basset Hound Club of America and has hosted BHCA Regional Specialties.
In August, the Basset Hound Club of Greater Detroit holds a specialty in conjunction with the Macomb Kennel Club shows in Davisburg, Michigan. The club has also organized supported entries at other dog shows in the region, such as in Armada, East Lansing, Monroe and Novi in Michigan, and Cleveland, Columbus and Troy in Ohio.
When the club supports an entry at a show, the club provides provides additional prizes for the exhibitors of Best of Breed, Best Opposite Sex, Winners Dog, Winners Bitch and Best of Winners. The club also promotes the entry to its members and to other basset exhibitors to encourage as large an entry as possible. Organizing a specialty involves additional work, including filing paperwork with BHCA and AKC to receive approval for the specialty, as well as selecting judges. Both sponsored entries and specialty shows may have sweepstakes, a competition for younger dogs (and sometimes also senior dogs) that does not provide points for a championship but rather returns part of the entry fee to exhibitors based on how the dog does in the competition. When there are sweepstakes, the club selects the sweepstakes judge.
Even though supporting entries and organizing specialties are a lot of work, club members realize that all that hard work pays off in providing basset breeders and owners with a more enjoyable show experience, and providing greater exposure of the wonderful qualities of the basset hound to the dog show world and the general public.