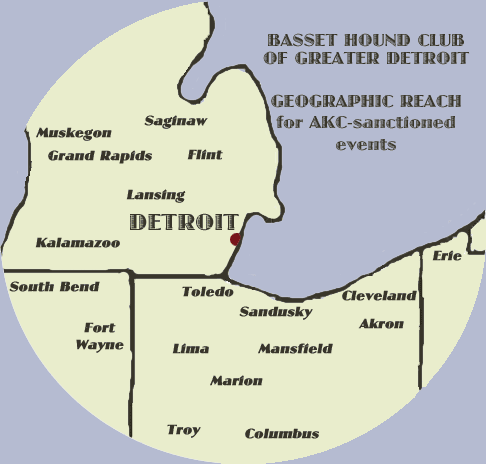 The home territory for the Basset Hound Club of Greater Detroit includes the nine counties in southeastern Michigan that comprise the metropolitan Detroit area: Genesee, Lapeer, Livingston, Macomb, Monroe, Oakland, St. Clair, Washtenaw and Wayne.
But the club has also supported entries and sponsored events at American Kennel Club shows within a 200-mile radius of the city of Detroit. The map on the left shows some of the locations that fall within that 200-mile radius.
Whether you live in metro Detroit or farther afield in Michigan, Ohio or Indiana, the Basset Hound Club of Greater Detroit encourages any basset hound owners — especially those interested in dog shows and the sport of conformation — to consider joining the club.
Interested in joining us? Click here for more information.